Last but not least...
And this is Minnie.
I lost one beloved cat earlier this year, nearly lost another soon after, and I'm still achey over the loss of Geri the Ginger Tom... last year? Year before?
So there's something in me that gets really nervous when I bring up the subject of Minnie. When I say, "she's really cute, I adore her," I feel like I ought to whisper, in case some vengeful power overhears and whisks her away.
So between you and me... she's gorgeous. A joy. An indiscriminate purrer, a confirmed player, an occasional licker and a champion wriggler. She's bright, inquisitive, energetic and pure fun. She loves to be stroked, but hates to be picked up.
Just don't tell anyone, okay?
We've been so lucky in our cats - every one unique and completely adorable in their own ways.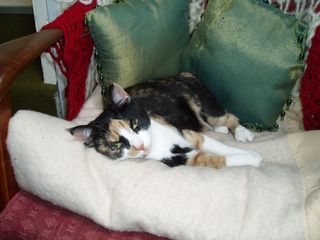 Sleepy kitty