Small is beautiful
Wednesday's picture...I have two postage-stamp sized front gardens that we created from a rubble and gravel pull-in for a car. And I do mean postage-stamp - they're about ten feet by fifteen - that lawn is about big enough to sit cross-legged in.
What the previous owners were thinking, creating that space, I don't know - it wasn't even big enough to fit a whole car in it, and to make it they demolished a lovely old half-height sandstone wall.
Which we then had to dig out of the ground in pieces. It's the first time I've ever dug a garden with a crowbar. Then we threw bag after bag of well-rotted farmyard manure at the impoverished ground and went mad with the planting. Believe it or not, this garden plays home to fifteen different herbs, six climbing plants, six different aquilegias, three types of crocosmia, rosa 'maiden's blush', lupins, allium, delphiniums, hostas and rudbekia. And more.
Planting distance rules are for wimps.
The picture here is of one of the gardens - the other one is still knee-high in weeds and debris. That's my project for later this year. I'll be going for a cobble circle, larger than the lawn in this picture, with blue irises growing through it, and a yellow rose climbing an obelisk in the centre. Slate paths around the cobble circle, and small borders in blues, yellows, and some whites will be a rather more ordered reflection of the other garden's eclectic, crammed, cottage garden style planting.
This is only the second summer for this first garden.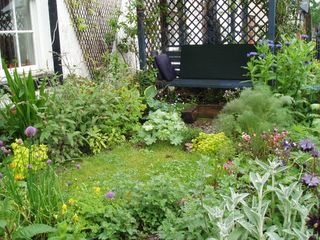 In an English Country... Ga..aa...rden