Secret Love
I have a shameful guilty secret.
I've been having an illicit love affair since I was about fourteen. Probably the seeds were sown much earlier, when I was wrapped in an embrace that was beguiling and strong.
All loves that have followed owe so much to this relationship. I'm ashamed to say that as much as I love my husband, my family, my cats and my writing, this passion came first, and I continue to visit my lover every day.
My lover is breathtakingly beautiful, but it's what I know about him that binds me so close. My lover is old, but fails and regenerates constantly. My lover is languid and thoughtful, angry and vital, peaceful and charming. My lover knows - and has seen - so much.
There is no lover in the world so wonderful as mine.
I'm in love with the English Landscape.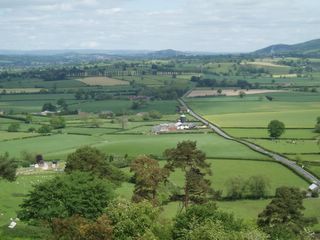 From Montgomery Castle