Kitchenerama
From this:-
.

To this:-
.

To this:-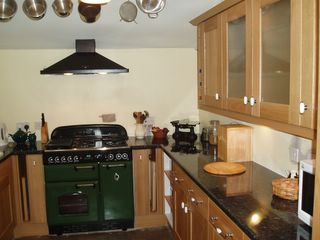 ...

Things We Will Not Mention:-
1) The design cock-up that means one cupboard will not be finished for several weeks.
2) The complete unlikelihood of our getting tiling and flooring done in the mean time.
3) Plaster dust.
4) Saw dust.
5) How long it will take us to restore the dining room to a state I can stand to dine in it.
Things We Will Mention Repeatedly:-
1) How utterly fabulous the cooker is. Soul food? Ha! This is Soul Cooking.
2) See 1).
3) How Husband spent his day off today cleaning the kitchen from top to bottom, then restored the living room to a state I can stand to live in it, and THEN cleaned the windows. (No mean feat. Each of our house's windows has twelve, old, ill-fitting panes in it. And there are eight windows.)
4) How cute Pippi looks in the new kitchen.
5) See 1).