It's a hard life, but someone's got to live it
Today I made a made escape from work to go here:-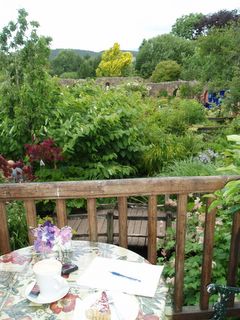 Ways of making editing palateable...

Looking out over a landscaped plantsman's garden, the scent of hazelnut latte and sweet peas mixing pleasantly with the faint taste of summer fruit tart lingering on the tongue....
I thought I'd also show you another favourite spot - my swimming spot:-
It's deeper than it looks

And just to prove that I actually do write there, too:-
I also write...

Now you can go ahead and hate me.
;-)